14 Jul 2021
All You Need To Be Carbs Smart

Carbohydrate choices matter when it comes to blood sugar control and weight loss.
---
While carbohydrates have the greatest impact on blood sugar levels, they cannot be avoided as they are the main and preferred source of energy for our body. Carbohydrate is a macronutrient that comes in three forms – starches (complex carbs), sugars (simple carbs) and dietary fibre.
When digested, the starches and sugars in carbohydrate foods are broken down into glucose and released into the bloodstream, causing blood sugar levels to rise. Subsequently, the body releases insulin, which allows glucose to be used to fuel bodily functions and physical activity.
Unlike sugars and starches, dietary fibre is the indigestible part of plant foods that cannot be broken down into glucose for energy. However, dietary fibre is an essential component of a healthful diet, with research linking a high fibre diet can help keep gut healthy, control blood sugar levels, promote weight loss, and reduce risk of various health conditions.
What is Glycaemic Index (GI)?
Glycaemic Index is the ranking of carbohydrate-containing foods based on their effect on blood sugar levels following the carbohydrate digestion and absorption in the body. The foods are ranked from 0 to 100.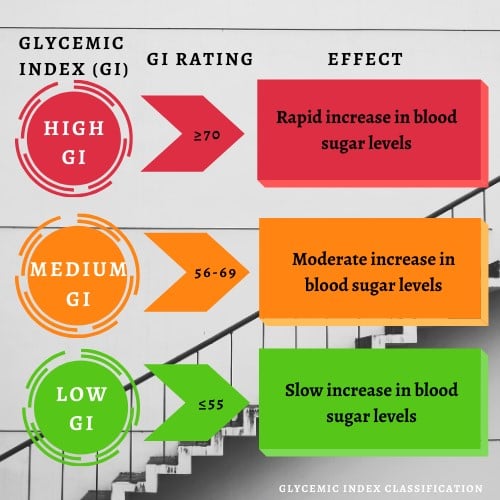 Image adapted from Temasek Polytechnic
Low GI foods provide a sustained energy release and are naturally more filling, resulting in feeling fuller for longer and less likely to overeat. High GI foods, on the other hand make blood sugar levels peak and crash, leaving you feeling flat and tempted to reach for that 'naughty snack' after meals.
GI is not the only factor to choosing foods.
The GI of a food can be affected by factors such as:
1. Presence of other nutrients
Adding other nutrients such as protein, fats and dietary fibres to food can slow carbohydrate digestion and help reduce glycaemic response of the food.
2. Quantity of the carbohydrate-containing food is consumed
The amount of carbohydrate contained in a food or meal serving can affect the blood glucose concentration and insulin response.
3. Cooking method
The cooking method and food preparation techniques can change the food's GI as cooking breaks down the cellular structure of a food, making it easier to digest and raise blood sugar levels. Generally, the longer a food is cooked, the higher the GI. For example, porridge has a higher GI than plain rice (83 vs 69).
What is Glycaemic Load (GL)?
The blood-sugar-raising potential of a carbohydrate food is not only determined by its quality (GI) but also by the quantity of carbohydrate in a food. Glycaemic Load (GL) is a measure to describe the overall effect of both quality and quantity of carbohydrates in a particular food.
You can calculate GL for any given food with the following formula:

Glycaemic LoadFood = GIFood x Carbohydrate* (g) content per serving ÷ 100
* Amount of available carbohydrates in a food serving that excludes indigestible carbohydrates, i.e., dietary fiber.
For a typical serving of a food, the GL is classified as below:
Low Glycaemic Load (low GL): 0 to 10

Medium Glycaemic Load (medium GL): 11 to 19

High Glycaemic Load (high GL): 20 and over
The benefits of eating low GI/GL foods
Research has shown the consumption of low-GI/GL foods causes a slow and steady rise in blood sugar levels that is likely to be beneficial for:
Improved blood sugar control

Improved blood lipid profile (i.e., total cholesterol, HDL, LDL and triglycerides)

Reduced hunger and increased satiety

Weight loss and maintenance

Reduced risk of various metabolic problems
Using GI and GL to Shape a Healthy Diet
By now, you already know that high GI foods result in a rapid increase in blood sugar, providing quick energy. However, this energy is usually short-lived and may trigger post-meal cravings and potentially lead to overeating and weight gain.
Low GI foods in contrast affect blood sugar gradually and provide greater satiety and sustained release of energy, which is a great choice if you are managing weight.
Here are some tips to get carb smart.
1. Don't cut carbohydrates - just swap to a healthier low GI & GR choice
Always look out for foods that are tagged with the 'Low Glycaemic Index' or 'Low Glycaemic Response" logos. These food items are smarter choices to be incorporated in your daily diet.
2. Select the right carbs
Whole grains, like quinoa are high in fibre and may help you feel fuller for longer. Naturally gluten-free ancient grain, quinoa gives a nutty flavour and fluffy texture, making it a great addition to any dishes.
3. Watch your portions
No matter how low the GI of your carbohydrate choice, always control your portion. Too much carbs in your meal will raise your blood sugar level quickly and may potentially trigger post-meal cravings later. Try following 'The Healthy Plate' by filling a quarter of your plate with healthy carbs for every meal so that you'll still get enough energy without overeating.
Alternatively, you may control your portion by taking the delicious, ready-to-eat meals that are paired with healthier staple alternatives such as low-GI rice, nutritious quinoa and low-carb noodles and pasta for every meal.
Specially Selected For You