No Refrigeration Required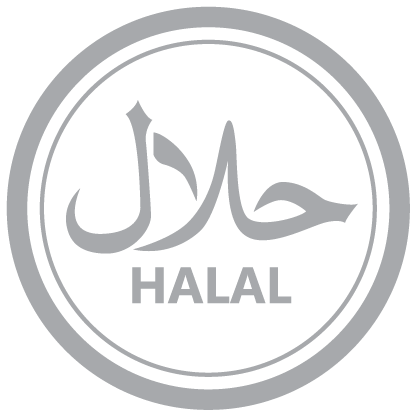 Classic Ground Beef Stew ZERO™ Noodles
8.40
VIP (Buy 1 Save 20%)
S$8.40
S$8.40
VIP (Buy 10 Up Save 50%)
S$5.25
S$5.25
VIP Meals - Buy 6 for 50% off (mix allowed, Price based on U.P.)
Check availability at retail store
Local Delivery
LOCAL DELIVERY WITHIN SINGAPORE
Complimentary for orders above $50 and $15 for orders below $50.
Delivery timings are between Mondays to Fridays 10am-5pm. Saturday (excluding Public Holidays) 10am-12pm.
Product Description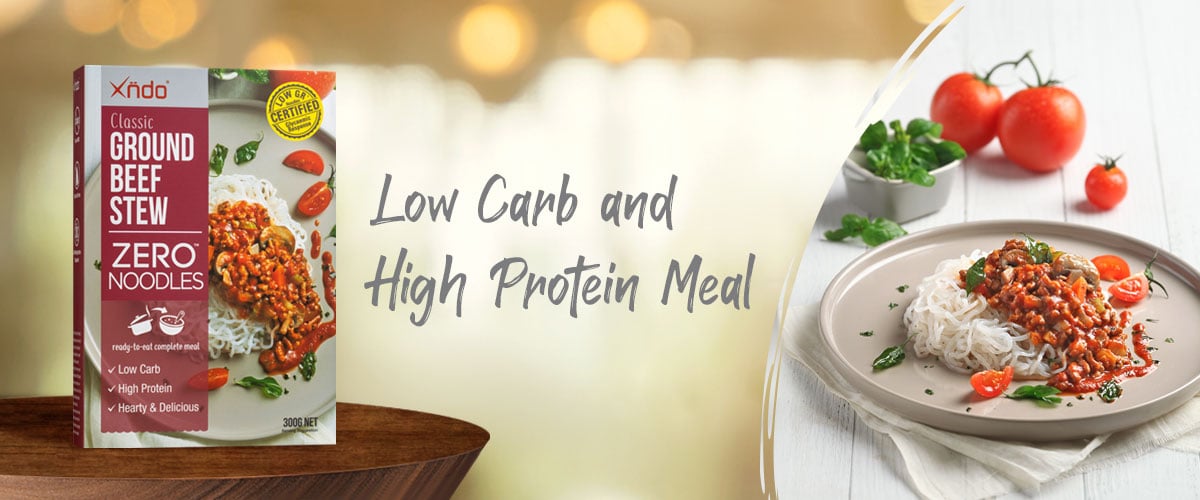 Xndo Classic Ground Beef Stew ZERO™ Noodles is a hearty, low-carb, high-protein, ready-to-eat complete meal that uses only non-GMO ingredients. Made with premium ground beef, assorted vegetables and seasoned with fresh herbs and spices, served with ZERO™ Noodles. Certified low-Glycaemic Response, ZERO™ Noodles provides sustained energy release and is suitable even for diabetics. This makes a delicious and healthy alternative to your favourite comfort food.
Packed separately and requires no refrigeration for your convenience, simply heat, savour and enjoy your sumptuous meal within minutes of preparation anytime, anywhere.
Features
Low carb

High protein

Trans fat free

Non-GMO ingredients

Reay-to-eat complete meal

Certified low-Glycaemic Response ZERO™ Noodles

No preservatives, artificial colours

Requires no refrigeration

Halal certified






Serving Methods
1. Microwave
Empty contents into a microwaveable bowl/plate. Heat in microwave for 1 to 2 minutes and serve.
2. Heat in water
Place both pouches into a pot of boiling water and simmer for 3 to 7 minutes till suitable eating temperature achieved. Empty contents into a serving bowl/plate and serve.
3. Straight from the pouch
Empty contents into a serving bowl/plate and serve.
Pouch is NOT microwaveable.
Keep refrigerated once pouch is opened.
Nutrition Information

Serving per package: 1

Serving size: 300g

per serving

per 100g

Energy

Protein

Total Fat

Saturated Fat

Trans Fat

Cholesterol

Carbohydrate

Starch

Total Sugar

Dietary Fibre

Sodium

134 kcal

12.8g

4.5g

2.3g

0.1g

30mg

10.5g

3.9g

5.8g

6.9g

893mg

45kcal

4.3g

1.5g

0.8g

0g

10mg

3.5g

1.3g

1.9g

2.3g

298mg
1 kcal = 4.2kJ
Ingredients
Classic Ground Beef Stew Noodles – chopped tomato (chopped peeled tomatoes, tomato juice, citric acid), minced beef, water, sliced button mushroom (mushroom, water, salt, citric acid), tomato paste (tomato paste, salt), onion, celery, carrot, palm oil, sugar, garlic, salt, concentrated seasoning (salt, monosodium glutamate, sugar, starch, sodium inosinate, sodium guanylate, palm oil, flavouring (contains celery), anticaking agent (INS551), caramel), mixed herbs (rosemary, savoury, basil, thyme, oregano, marjoram, spices and herbs), beef stock (salt, monosodium glutamate, palm fat, corn starch, maltodextrin, permitted flavourings (contains milk), sugar, palm olein, beef fat, hydrolysed vegetable protein, spices, permitted colouring, sodium inosinate, guanylate, citric acid), yeast extract, food acid (E330)
Noodles - water, konjac powder, lime water
Contains milk and celery.
Manufactured in a facility that also processes gluten, eggs, peanuts, tree nuts, soya, sesame, mustard, fish, crustaceans, molluscs and sulphites.
Storage
Store in a cool, dry place.
Avoid freezing and exposing to direct sunlight.
Country of origin
Classic Ground Beef Stew - Singapore
Noodles - Thailand
---
Stay Inspired with Health Trends
Specially Selected For You