Keep you and your loved ones safe (& slim) while dining out!!!
---
It's the festive season and you're making Christmas plans with all your friends and family. Whether it's a quick catch up over coffee or an elaborate feast, make sure to keep these tips and tricks in mind to get you through the festive feasting!
1. Make reservation booking

Try and beat the crowd by making a reservation in advance, as this allows you to save time instead of waiting for a seat. If reservations can't be made and you still wish to dine out, you can choose to dine during off-peak periods as most crowding tends to happen during the peak dining periods.
2. Practice safe distancing

Even though F&B establishments have implemented safe management measures, do remember to keep 1m apart from other groups when queuing. Try not to mingle with other groups, as this increases the chance of virus spreading. Remember to think of others and be considerate when dining out to be safe.
3. Mask off only when necessary

Mask should be worn throughout the day when you're out. The only exception is when you're eating or drinking, but that's only allowed when your food has arrived. Being seated in the restaurant doesn't mean you can remove your mask! When your food does arrive, remove your mask and place it somewhere clean and proceed to enjoy your meal.
4. Use a sharing spoon

Sharing spoon is especially essential in today's context, as it minimises saliva contamination, which in turn lowers the risk of bacteria spreading. So, remember to use a sharing spoon when dining out and if possible, avoid sharing food or utensils with others!
5. Portion control with sharing plates

People tend to consume everything that is placed on their plates, which leads to overeating. To prevent this, control your portion size by using sharing plates, as this limits the amount of food you consume, or use a small plate to avoid piling additional food on it.
6. Do not skip on meals

Do not skip on meals in anticipation of a dinner feast, thinking you will be able to eat more without exceeding your daily calorie intake. When you skip a meal or go for an extended period of time without eating, your body craves for food, which causes you to eat a lot more.[1] Instead, eat normally and have a little snack before dinner to keep your hunger at bay.
7. Start the meal with a glass of water

Start the dinner feast right by drinking a glass of water 30 minutes before the meal. This allows for an increased sensation of fullness, where the body is able to suppress hunger and curb binge eating. This results in a reduction in food intake and the number of calories consumed during this festive season.[2]
Worried about all the calories you'll be gaining after this festive period?
Xndo Xcarb™ CarbCut™ & Xndo Xfat™ Fat Burner™ functional drinks allows you to eat without the guilt!
When consumed before a high-carbohydrate meal, Xcarb™ CarbCut™ is able to block the digestion and absorption of carbohydrates while minimising the caloric impact of ingested carbohydrates. It is formulated with clinically-researched ingredients to help curb carbs and promote weight loss in a tasty, raspberry grape flavoured functional drink that will solve your dilemma!
Xndo Xfat™ Fat Burner™ is a unique proprietary blend that is formulated into a refreshing, lychee flavoured functional drink. An alternative to high-sugar beverages to help aid in weight loss. With its carefully selected choice of ingredients, it is able to promote fat loss, boost satiety, and improve lipid and glucose metabolism, which will help accelerate your weight loss journey!
When taken together, they are able to complement each other to support healthy weight loss. So, put your worries aside and enjoy the festive season with Xndo functional drinks!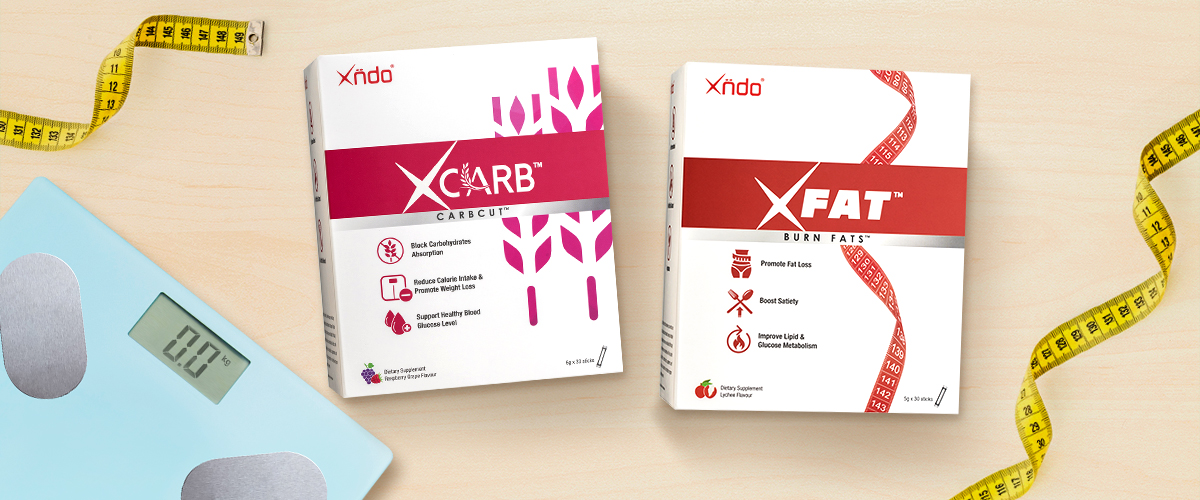 [1]https://www.piedmont.org/living-better/what-happens-to-the-body-when-you-skip-meals
[2]https://www.healthline.com/nutrition/portion-control#TOC_TITLE_HDR_6